About Bentley Baths Bath Tub Company
Bentley Baths bathtub company began in Denver, CO in 2003 when owner George Bentley's life took an unexpected turn. George's mother, Sara, fell in a traditional tub and broke her hip. She was healthy and vivacious then, and her injury caught everyone completely by surprise. Sara's health spiraled downward from there – hospitals, medications, complications, and eventually a nursing home – in what George now knows is a very common pattern. As a direct result of her injuries, Sara died in that nursing home in 2004.
After this tragedy, George's father Earl, age 85 at the time, made it perfectly clear that he would never enter a nursing home. George's challenge was clear: how could he help his father age safely in his home for the rest of his life? George now had a new mission and a deep personal passion for finding the solution to the challenge.
George Bentley of the Bentley Baths bathtub company in Denver has invested years of research and study into helping consumers understand exactly which Bentley Walk-in Therapy Tub is best for their unique needs. We have created detailed guidelines and Assessments to walk you through the mobility, body size, and installation factors that MUST be accurately taken into account before making a purchasing decision. We will always encourage you to ask questions, visualize, and assess the right Bentley Bath for you. Please, don't buy ANY walk-in bathtub until you have all the information.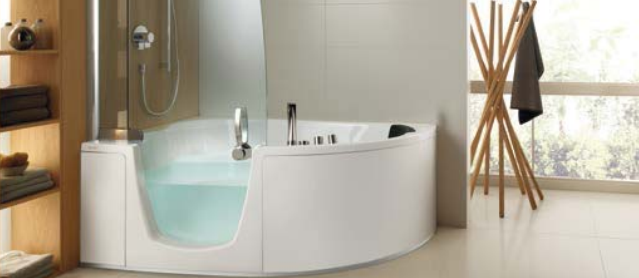 Medical Hydrotherapy Tubs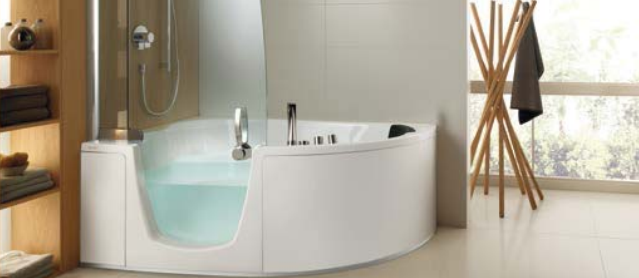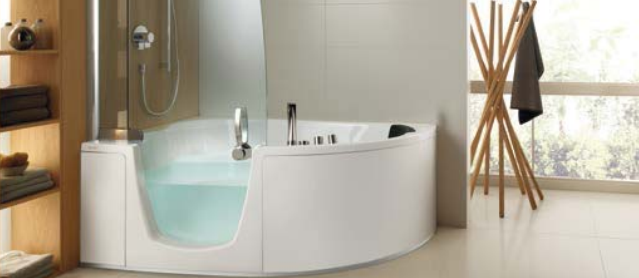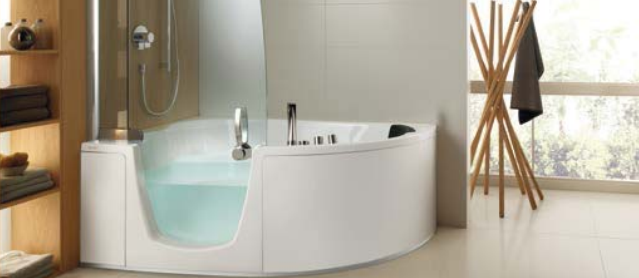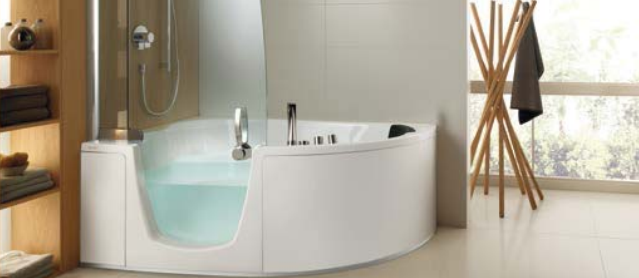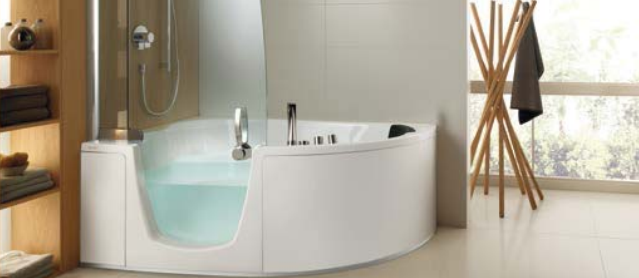 Custom Barrier Free No Threshold Roll-In Showers with ADA Compliant Shower Wand and Grab Bars and Folding Teak Seat.
George Bentley, owner of Bentley Baths is nationally recognized as an expert author, speaker, aging-in-place specialist, and consumer advocate. He is one of the leading legal, business, and consumer advocacy minds in the country, once described by US District Court Judge, Henry Woods, as a "true Renaissance Man."
A former law professor and radio talk-show host, he is well trained and experienced in the fields of law, business, finances, learning and wellness technologies, personal growth, and human development. He has studied at Harvard Law School and New York University School of Law, and is a former Adjunct Professor at the University of Denver College of Law.
Following the death of his mother in a nursing home due to health issues stemming from a preventable fall, George committed his life to discovering how to avoid this from happening to others. He writes extensively on safe aging and senior health issues and has personally interviewed and consulted with thousands of seniors, their adult children, and caregivers.
He recently completed developing the professional education certifications and course work for the professional designation of Certified Safe Bathing Specialist. He also created the Medical Hydrotherapy® Program, a unique and revolutionary therapeutic process designed to fight degenerative age-related health problems and assist seniors and the health challenged to remain in their own homes. The program has been so well received by the medical profession that virtually every doctor has prescribed it for their patients who desire to enroll.
George is also the founder and CEO of Bentley Wellness Technologies, Inc., the nation's leading provider of high quality fully ADA compliant walk-in bathtubs, transition tubs, and safe bathing appliances designed to help keep seniors living independently in their own homes. He is also the creator of Medical Hydrotherapy®.