Make an Informed Decision with the help of our Age-In-Place Experts
Take our Free Assessment or give us a call to get started.
Get Your FREE
My Perfect Solution
Walk-In Tub Assessment
 We know how important it is to have the right Bentley Walk-in Bathtub to fit your unique needs, which is why we have invested years of research and study so you don't have to. Our dedicated experts have created detailed guidelines and assessments to walk you through all the important factors that must be accurately taken into account before purchasing a Bentley Bath Walk-in Tub or Shower. Count on us to answer all your questions and help you visualize the perfect walk-in tub for you!
Benefits of Choosing Bentley Baths Products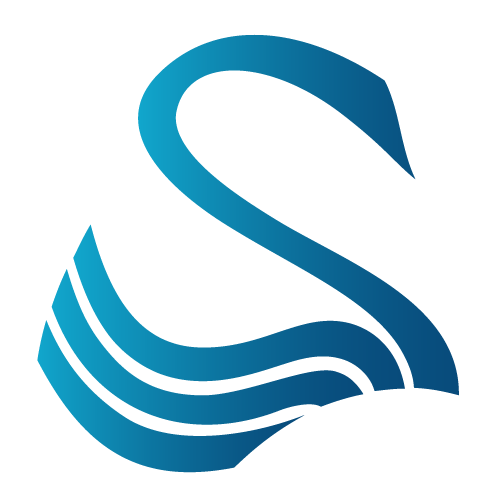 Hydrotherapy uses physical properties of water and other factors as a natural and effective pain relief treatment for common ailments such as arthritis, diabetes, lower back pain, stress, and more.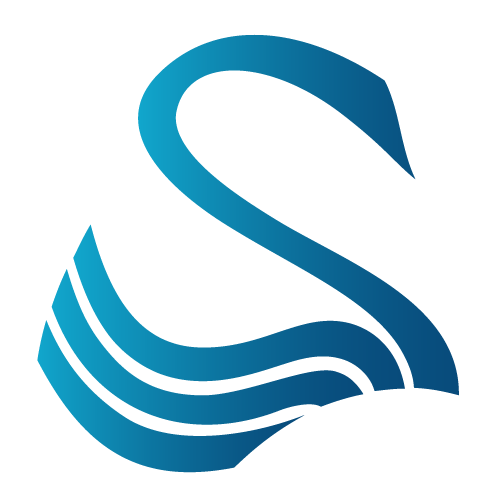 SecureTemp Thermostatic Mixing Valve
The SecureTemp Thermostatic Mixing Valve limits the blending of hot and cold water to ensure you never receive water temperature that could potentially injure you.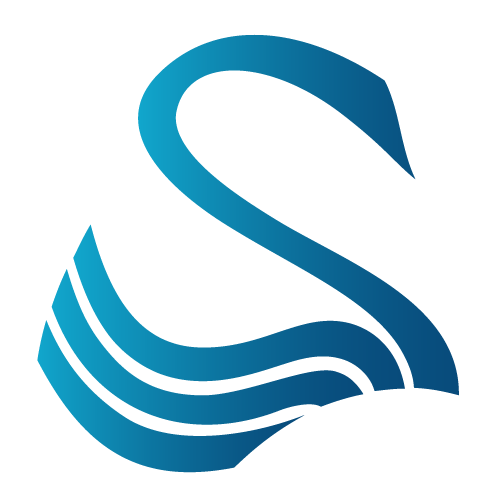 The Bentley Bath Speed Drain allows you to drain your walk-in tub or shower at a much faster rate which means you can get out quicker!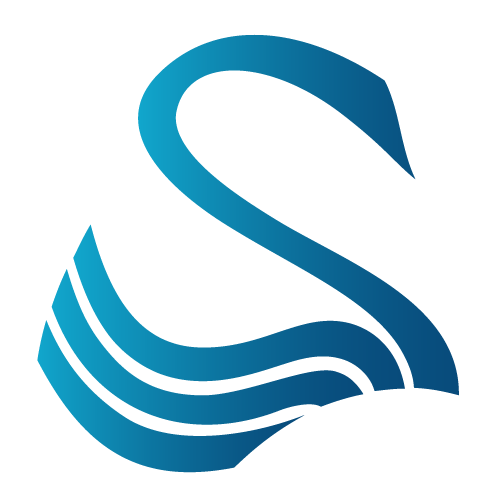 Multiple Valve Selections
With our multiple valve selection, you can bathe comfortably with the ability to adjust your water temperature for safety, comfort, and maximum health benefit.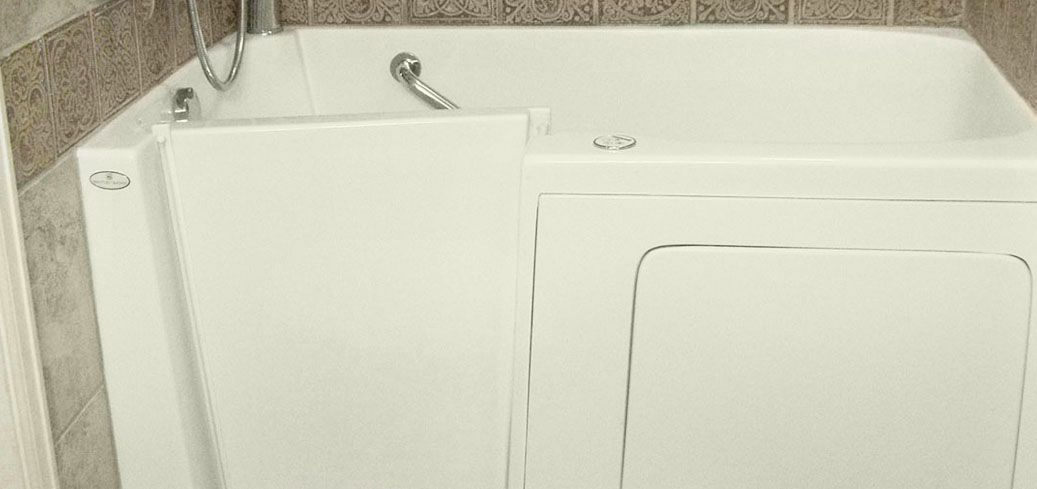 We are proud to announce our Golden Swan walk-in therapy tub. This tub is customizable to fit into your space because it is manufactured locally!
As the name implies, our Bentley Baths Emperor Swan walk-in tub models are one of a kind and represent the widest, deepest, longest walk-in bathtub in the market. These walk-in bathtub models are recommended specifically for those with larger body sizes or those who just want a walk-in tub with extra room to bathe.
In the Swan Line models, the 3052 "straight door" and its sibling, the 2952 "curved door", are our superstars. Like all Swan line models, the Bentley Baths Swan 3052 line of appliances offer bathers a choice of door swings with the added benefit of a full 40″ depth.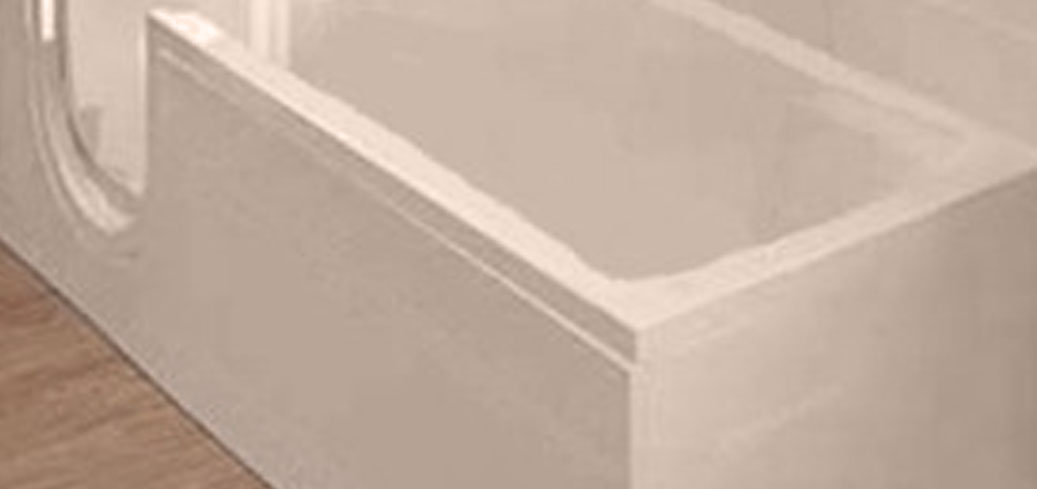 For those times when a low tub is necessary, a crane is a great option. It is easy to step into and when used with a Bath lift, it provides a comfortable soaking experience.
The Bentley Baths Slide-in / Transition product line permits full soaking and the relaxing, healthful benefits of full-body water bathing and it can also include Bentley Baths exclusive Medical Hydrotherapy® systems! The previous "chore" of bathing can turn into an amazing event that is life-altering for our customers with severe mobility challenges.
Bentley Baths has researched all the products in the market and has chosen the Great Heron, Blue Heron, and the Small Heron model as our transition line of tubs. The Small Heron is a more compact model among the transition line of tubs. The Small Heron is designed for a smaller bathroom also meant to support independent living and aging-in-place.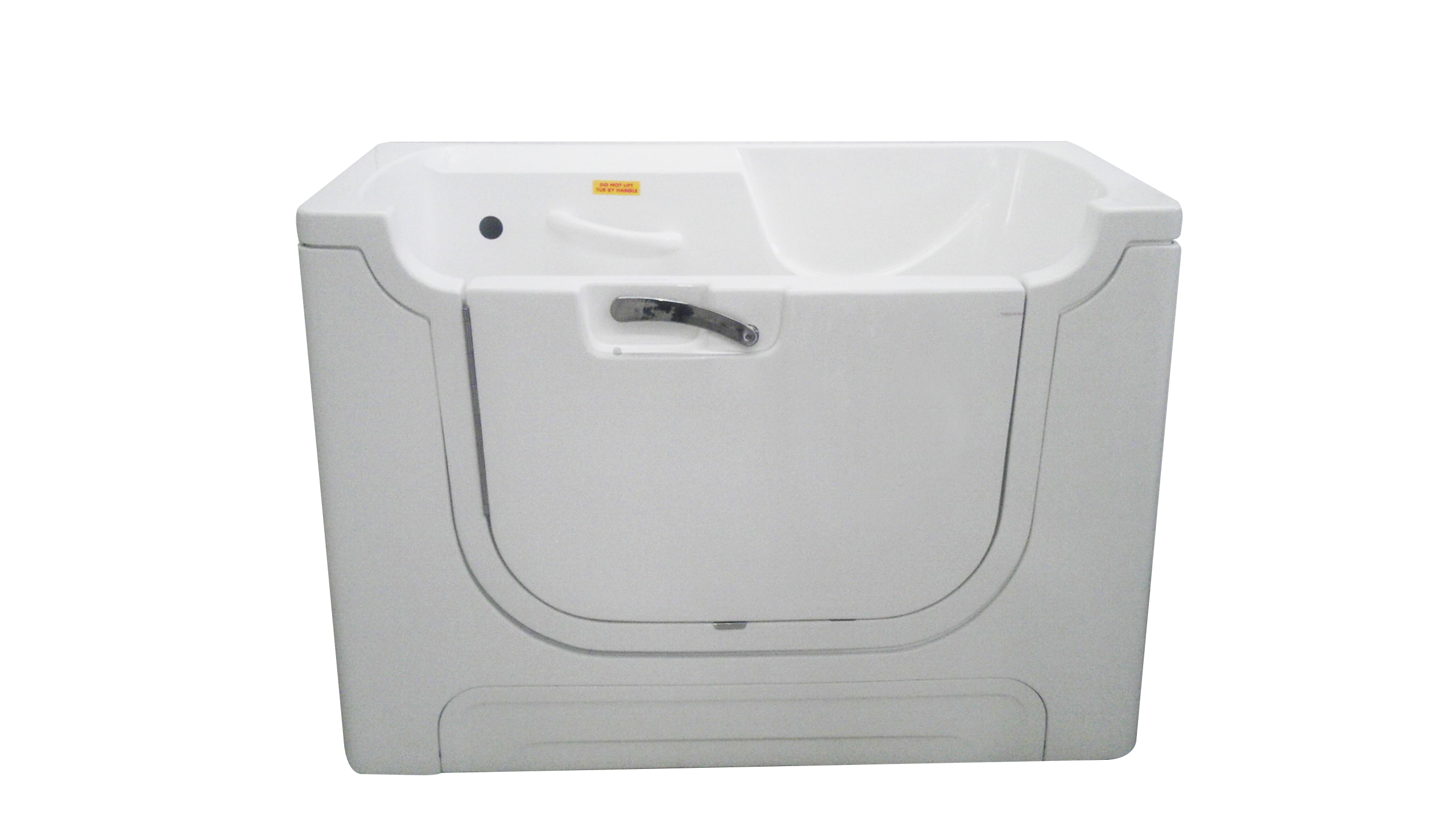 The Bentley Baths Heron product line is specifically engineered to handle direct transfers into the bathing well. Unlike walk-in appliances, this means there is no standing area in the tub, and the bather reclines in the bath. Bentley Baths has researched all the products in the market and has chosen the Great Heron, Blue Heron, and the more compact Small Heron model as our transition line of tubs.
Are you suffering from ailments like – arthritis, pain, insomnia, and diabetes? If your answer is affirmative, then it is about time you know the benefits of hydrotherapy.
Hydrotherapy is one of the most popular treatments that provide relief from common ailments like arthritis, diabetes, lower back pain, stress, etc. Used since ages, this therapy relies mainly on the physical properties of water and other factors, which make it a natural and effective treatment that is advantageous for the elderly.
The treatment consists of soaking in warm or hot flowing water in special hydrotherapy bathtubs. It is the unique combination of water and temperature/pressure settings, which provides you relief from various ailments and also helps you relax.
Luxurious Treatment in the Comforts of Your Own Home
At present, you can opt for hydrotherapy in medical centers where it is administered by trained professionals or at spas, where it is offered as luxury treatment. But why spend on them when you can opt for your own hydrotherapy treatment within the comforts of your own home?
All that you need to do is order hydrotherapy tubs of your choice and install them in your bathing area. There are special walk-in bathtubs available for seniors, which will suit your needs aptly. And of course, you will get numerous benefits that accompany these bathtubs.
Get Them from Bathtub Specialists
While looking for hydrotherapy tubs for seniors, you need to opt for a store from where you can get quality products. We Bentley Baths, have an overarching expertise in bathtub making, especially when it comes to providing walk-in tubs for the elderly.
We have a wide range of bathtubs for hydrotherapy sessions, which you can install in your bathing spaces. Having adequate knowledge about the special needs of the elderly, we can help you make an informed decision when you choose our product.
ADA Safety Shower Systems
Separately Plumbed ADA Compliant Shower Systems
As with thermostatic protection, we always recommend plumbing our walk-in and slide-in therapy tubs with separately plumbed shower systems to allow the bath filler and the shower head to flow independently of one another (this is actually an ADA guideline). This allows the bather to simultaneously fill the bath while operating the shower. Again, as safety is our priority, separating the bathwater from the shower water allows the bather to bathe in safety, with less fear of being shocked or scalded.
ADA Approved Caregiver Shower System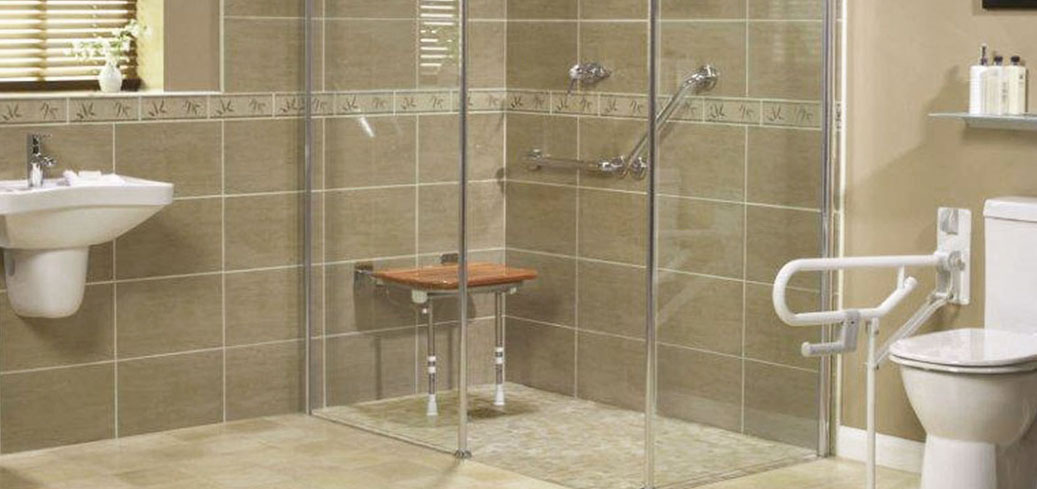 Custom Barrier Free No Threshold Roll-In Shower with ADA Compliant Shower Wand and Grab Bars and Folding Teak Seat.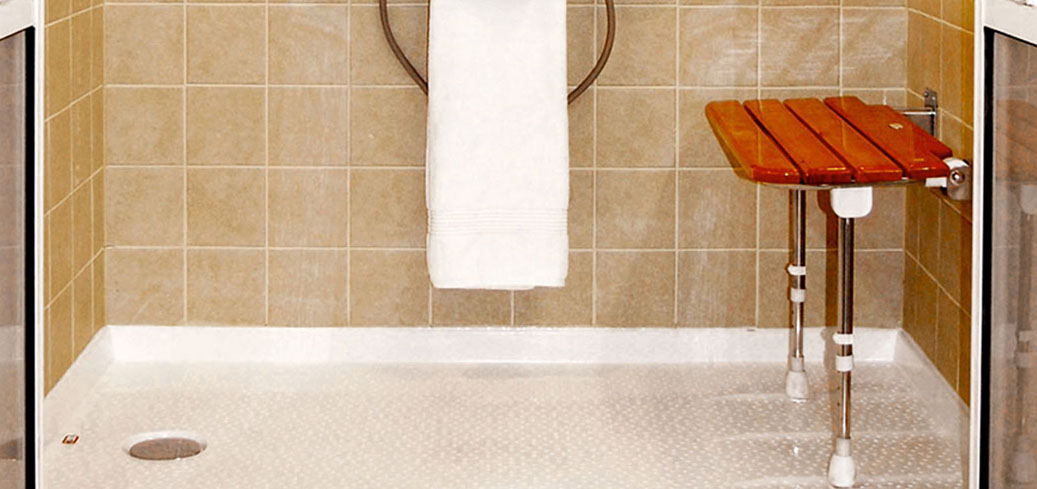 This redesigned Easy Access Shower offers innovative shower doors and high-quality accessories to give you the style and safety you desire.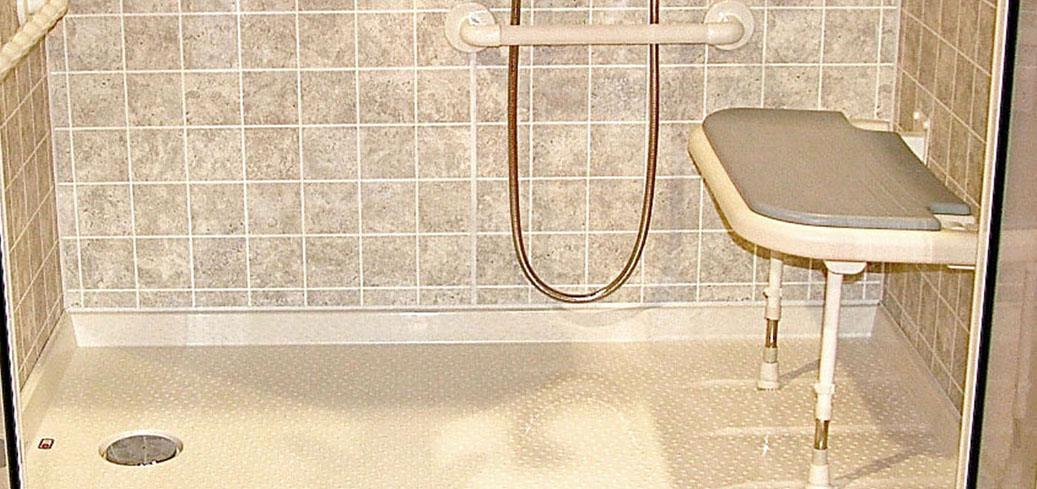 Low Threshold Shower with Collapsible Water Dam with ADA Shower System.
The Bathroom Remodeling Process
Though bathrooms are often smaller than other rooms, there can be a lot involved. It is for this reason that we at Bentley Baths, believe in transparent and clear lines of communication, excellent service, and building lasting trusting relationships.
From the initial free consultation and an itemized estimate of your bathroom remodel to small, final touch-ups, we want the process to be easy and stress-free for you. We will help ensure any materials and fixtures you want are available and if some items have a long lead time, we will work around the delivery date.
Because the initial demolition can be dusty, we lay down heavy-duty mats to protect your floors, seal the project to confine debris, and clean up every day. At the point of fixture installation, we pay great attention to detail as we complete a final punch list, ensuring all fixtures align perfectly, towel racks are at your desired height, tiles are cut to exact measurements—nothing is overlooked.
Contact Our Team Today to Discuss Your Remodel
We want you to end up with a warm, clean, and stylish bathroom that you love, and to be deeply satisfied with the process and our professionalism. We stand behind our work and warranty every bathroom renovation we do! Please contact us today and we can discuss financing options and how to get your project started.