In this blog I answer one of our customers' most frequently asked questions about Bentley Baths Medical Hydrotherapy® walk-in bathtubs, whether you have to empty the tub completely before opening the door. From time to time I will answer more such questions in this forum.
Name: Bernadette
Question: Do you have to empty the tub of all of the water before you can open the door to get out? What if the water pressure is weak?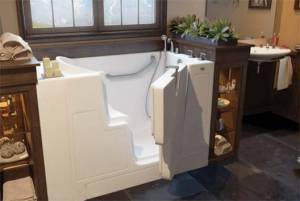 Answer: Hi Bernadette. These are serious "quality of life issues". The bather waits for the tub to fill, and then to drain. Water pressure is a factor, but so long as a customer has normal city water pressure, we can do a good job. The key on filling is "True" 3/4″ rapid flow valves (rated at 22 gpm). Most all walk-in tubs are sold with reduced flow valves (even if the seller tells you their valves are 3/4″, they are usually restricted. With all factors being constant, the standard size (Swan appliance) should fill in 3-4 minutes. This is pretty fast. A standard 60″ reclining tub can take 5-7 minutes to fill to overflow. If water pressure is weak, we can sometimes install a pressure booster to increase water flow. Usually necessary only when people are on wells or small pump systems already.
Drain is the opposite and the same. You want an ADA compliant steel cable operated rapid flow drain system. Very very few manufacturers use these. Them open the 1 1/2″ drain line to full capacity, and if we can go to a 2″ drain we do. This should drain in 3-4 minutes depending on the sewer system functioning properly, of course. We teach our customers how to use the fill and drain times and to remain comfortable, however, we rarely have anyone express any concern if we follow our guidelines.
Please let me know if this was helpful, and how we might be of further service. My mother taught me that "the only stupid question is the one you don't get answered!" We look forward to helping you.
Best regards, George.
For more information about this and all of our other products, please don't hesitate to call us at 303-388-8887 or email me personally at George@BentleyBaths.com.
 

Stay tuned for the next installment of the Bentley Baths blog, in which I continue the discussion of cutting-edge techniques that are used to help rejuvenate both body and mind as we age.