Human life expectancy is at it's highest average in recorded history, most of which can be attributed to technological advancements in health care. However, as we grow older, aging-in-place remains a difficult challenge — Aging presents multiple health concerns such as loss of physical and cognitive function.
In fact, according to the National Council on Aging approximately 92% of older adults have at least one chronic disease and 77% have at least two. This, in turn, severely impacts the quality of their life.
Have you been looking for the right in-home care agency for you or your loved one's senior care to ensure that all his/her needs are addressed properly?
While it's a daunting task, it is not impossible.
There are a number of reputable in-home care agencies available today, but in selecting one you'll want to make sure you do your due diligence. The right agency will leave no stone unturned in meeting the specific needs of your loved one. Moreover, your family member will be able to maintain their same level of independence within the comfort of their home.
Wondering how can you go about finding the right one?
Here are three tips that can help you choose the best in-home care agency for your close one.
---
1. Determining the Needed Level of Care
The first step to finding the right kind of in-home care agency is determining what level of care is needed. Hence, before contacting prospective agencies, create a list of your loved one's needs, as well as, your expectations on how these needs should be met.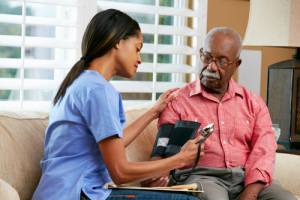 There are two main categories of in-home care services: Skilled Care and Custodial Care.
Skilled care provides for medical needs —
"A type of health care given when you need skilled nursing or rehabilitation staff to manage, observe, and evaluate your care. Nursing, physical therapy, occupational therapy, and speech therapy are considered skilled care by Medicare." – Medicare.gov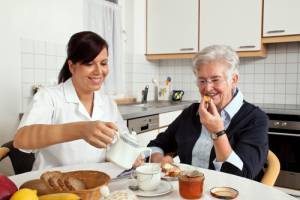 Custodial care, on the other hand, may include environmental assistance with housekeeping, shopping, meal preparation, or personal care — bathing, dressing, and feeding.
"Custodial care is nonmedical assistance — either at home or in a nursing or assisted-living facility — with the activities of daily life (such as bathing, eating, dressing, using the toilet) for someone who's unable to fully perform those activities without help." – Caring.com
Once you know the level of care that is needed, you can choose an agency that best fits your requirements.
---
2. Start Within Your Network
The best referrals tend to come through family, friends, neighbors, or colleagues. Getting a first-hand opinion from them can be quite helpful.
Apart from this, you can find and compare Medicare-certified in-home care agencies in your area through Medicare's online tool Home Health Compare.
Consider asking the local hospital for a list of in-home care agencies in your community.
---
3. Important Questions You Should Ask
Choosing the right in-home care agency requires you to get answers to all your questions in a timely manner. Doing so will save you a lot of trouble later. The National Association for Home Care & Hospice suggests asking the following questions:
How long has the agency been in business?
Is the agency evaluated and accredited by a governing agency such as The Joint Commission's Home Care Accreditation Program?
Is the agency licensed by the state?
Can the agency provide references?
How does the agency protect client confidentiality?
Is the agency inspected by any outside organization?
Does the agency perform a customer satisfaction survey?
How does the agency select and train caregivers?
Will the agency schedule care at any time of the day or night that the physician says is necessary?
Can the agency provide written information about the rights and responsibilities of the providers, patients, and caregivers?
How does the agency respond during times of emergencies?
Is the agency certified by Medicare?
How does the agency handle expenses and billing?
Does the agency provide detailed explanations of all the costs associated with in-home care?
Does the agency offer any resources toward financial assistance?
---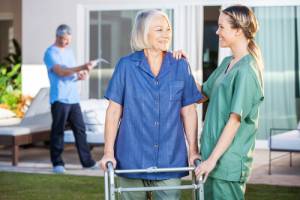 Caregiving can sometimes be both, physically and mentally exhausting and having the right in-home care agency can, indeed, be your savior. It also feels great knowing your loved one is in safe hands. However, choosing the best one is a difficult decision – one that requires you to consider all the essential factors related to your loved one's health.
Professional recommendations and rigorous inquiry will immensely help you choose the right agency. Following these tips will aid you in the decision-making process, and help you find the best fit for your family.