In this blog I talk about exhibiting our walk-in tubs at expos and shows, which is one of the most important ways we bring our life saving technologies to the public.
 
Going on the Road
While Bentley Baths does have the only walk-in tub showroom in the Denver area and we are able to sell and install nationwide, not everyone who needs our products, which also include showers, stair ramps, and other aging-in-place technologies and equipment, is able to stop by and see us in action.  So loading up a tub and showing it at the relevant shows and expos is a big part of how we make our services known to those who may need us but perhaps do not even know so.  This also provides a tremendous opportunity for us to interact with our clients and potential customers, to see what's on their minds and how their needs are evolving.
First I'd like to review a couple of recent shows at which we exhibited, and then I'll let you know about some upcoming opportunities to familiarize yourself with our terrific staff and life-saving products.
Colorado Home Show and Amazing Aging Expo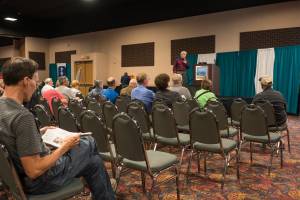 Both the Colorado Home Show (September 9-11 at the Colorado Convention Center) and the Amazing Aging Expo (September 10 at the Crowne Plaza Convention Center near Denver International Airport) were very well attended and we had a lot of fun showing off our tubs and offering free, in-home safety evaluations to anyone who wanted one.  A special element of the AAE was that I had the opportunity to speak twice on the topic of, "Top Three Things to Keep You Out of a Nursing Home and Home for Life."
Both sessions were very well attended and it was great to give my thoughts on how Environmental Design, Long-Term Health and Comfort, and Financial Security are the keys to being able to, as we like to say, "Die Young at an Old Age."  We offered special pricing on walk-in tubs to both sets of show attendees, as well as the aforementioned no-cost Whole-House Safety Check (where we come out at no charge and conduct a 30-45 minute overall home evaluation and give you a check list of items that should be addressed over time to allow you to stay in your home as you age).
Upcoming Shows and Expos
The work never ends!  We have a couple of shows scheduled in October – the OTAC conference in Blackhawk, CO (for occupational therapists only on October 21-22) and also the Bone & Joint Expo, sponsored by the Arthritis Foundation for the general public, to be held from 10:00 A.M. – 3:00 P.M. on October 22 at The MAC Center, 3295 W. 72nd Ave. in Westminster, CO.
Final Thoughts
While it takes a lot of effort to load a heavy walk-in tub onto a truck, set it up at a show or expo, and staff a booth for multiple days in order to be able to talk to all interested attendees, for us it's always worth it even if we don't sell a single tub.  One of our company mottos is, "Saving One Life At a Time," and whatever we can do to help ensure that you are able to stay in your home as you age is of utmost importance to everyone at Bentley Baths.  Please don't hesitate to call us (303-388-8887) or email me (George@bentleybaths.com) with any questions you may have.  Thanks to all who came up to us at our recent exhibitions and be sure to stop and say hi the next time you see us at a show or expo!
 
Stay tuned for the next installment of the Bentley Baths blog, in which I initiate a discussion of some of the cutting-edge techniques that are starting to be used to help rejuvenate both body and mind as we age.