5 Amazing Walk-in Tub Features And Why They Matter in 2023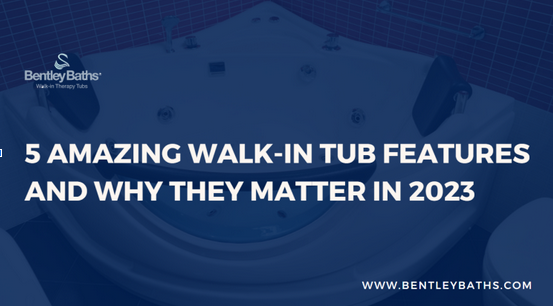 A walk-in bathtub is a bathtub with a waterproof door that enables entry without requiring the user to go over the bath's side, which is very necessary for people with mobility difficulties. When they close the door, water pours inside, allowing them to take a bath. Once finished, the water drains, allowing them to safely leave.
Due to their low entrance walk thresholds, walk-in tubs help elders by keeping them secure when they enter and exit the bath. Before buying a walk-in tub, customers need to take into account several aspects. Price, non-slip surface, grab bars, or other components, depending on its manufacturer, therapeutic, and safety considerations are a few of these. There are various security and convenience elements included with the walk-in tub, but we will talk about five outstanding features that concentrate on what is important most to our clients.
Walk-in bathtub door:
Firstly, you want to ask yourself, How simple is it to enter and exit the tub? Door design and accessibility. Examine the door's construction to determine whether it swings forward or outward and whether it enables barrier-free access to the bathtub. The bathtub's door can be examined by a physiotherapist, who can determine whether it is suitable for you.
Grabbing Handrails or Bars
Grab bars are common in walk-in tubs since they are necessary for so many users. We advise you to check the placement of the grab bars in a walk-in tub at a sales office. The best location for grab bars depends on a variety of elements, such as the bather's arms and legs strength, range of motion, grip strength, balance, and coordination, as well as their height, weight, and body measurements. Find out if the built-in grab bars in a tub may be adjusted to better suit your needs by asking your contractor, dealer, or manufacturer. To avoid falls and injury prevention, think about placing grab rails outside the walk-in tub.
Non-slip surfaces and Furniture: 
Some manufacturers of walk-in bathtubs construct their tubs with the smallest entry threshold possible—only 2 inches—so that you barely have to lift your legs to get in. This lowers the possibility of trips, slips, and falls. Some walk-in bathtubs are made with finishes that are resistant to mold, mildew, and bacteria, which reduces the likelihood that the tub surface may develop a slick buildup over time.
Walk-in bathtubs likewise have showers:
The fact that shower heads are frequently linked to walk-in bathtubs is often overlooked. You may move around a lot with this shower-head because it is often extensible.
The shower option is excellent for people who don't want to take a long time getting clean or who don't want to wait for the tub to fill up.
The best and the least feature but not the last is the;
Built-in Seats
The built-in seat that often comes with walk-in tub showers allows you to sit in the walk-in tub rather than lie in it, which is a nice feature. Additionally, some models have a rain-shower function, which makes bathing not only safe but also exquisite. This can also help with using the hand-held shower function. You may create a sauna-like feeling in the bathtub by using benches instead of standing or even lying down, which is safer and can help your body relax and decompress.
Why do walk-in bathtub features matter in 2023?
As people get advanced in age mobility becomes slower and harder, which is why a walk-in bathtub in 2023 matters.
In general, anyone looking for a safer, more pleasant bathing experience might benefit from a walk-in tub. Fall prevention while entering or leaving the bathtub is the primary reason older adults buy walk-in bathtubs. It is safer than a typical bathtub thanks to its high walls, nonslip bottom, built-in seat, and grab bars.
Anyone with restricted mobility, including those with disabilities as well as those who don't want to sacrifice their independence, can benefit greatly from using a walk-in tub. For those who provide care for those with restricted mobility, such as family members, a walk-in bathtub is a wise purchase.