One look at pictures of glamorous bathrooms outfitted with uber-cool fixtures, and you can't help but gaze in their splendor. While you may want your bathroom to resemble a spa-like oasis, it's important to note that safety holds a primary position when it comes to the bathroom. 
In fact, a bathroom layout devoid of safety features is one of the most dangerous places in a home.
According to the Center for Disease Control and Prevention, about 235,000 people over the age of 15 visit emergency rooms because of injuries suffered in the bathroom every year; almost 14 percent are hospitalized every year. More than a third of these injuries occur during daily bathing or showering.
However, bathroom falls and injuries can easily be prevented if you take the proper precautions. In recognition of the National Bath Safety Month, we would like to share a few bathroom safety tips.
These three simple bathroom hacks are sure to keep you and your loved ones safer.
---
1.Prevent Slips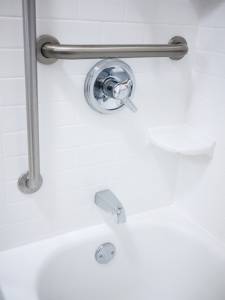 According to the American Family Physician, significant falls tend to be the leading cause of injury-related visits to emergency rooms in the U.S., and the primary etiology of accidental deaths in people over the age of 65.
To help prevent them, try these simple home modifications:
Affix a slip-resistant plastic mat that suctions to the bottom of your tub and make sure to secure a throw rug outside of the tub that will not slide when stepped on.
 Install a grab bar for better support when stepping in and out of the bath.
Install a nightlight to illuminate your path to the bathroom and reduce the risk of falling during a late night trip to the bathroom.
2.Lower the Risk of Scalding

Want to know one of the most effective ways to decrease the likelihood of becoming scalded by hot water? For starters, make sure to always wait until the tub is finished filling up before entering the water — the temperature may vary inside the tub.
Additionally, set your home's water heater to deliver water at a temperature no higher than 120 degrees — If you don't have control over the water heater, buy an anti-scald device that can be easily attached to the faucet.
3.Other Essentials to Keep in Mind
Do you keep bathroom items such as towels, soap, and shampoo within reach or do you need to contort yourself to get them? If it's the latter, it is imperative that you deal with the issue immediately. It's essential to ensure that all your bathroom items are easily accessible because the failure to do so can directly lead to major slips in the bathroom.
Beware of objects with sharp edges, use a rubber cover for the faucet head, and drape a towel over metal rails for sliding shower doors — make sure that glass shower doors are shatterproof!
Keep your bathroom floor and the path you take to reach the bathroom clean and free of objects at all times.
Ensure that all the electrical outlets in the bathroom have ground fault circuit interrupters — electrical switches and plugs should be at a safe distance from water sources.
---
Incorporating these above-mentioned safety features into your bathroom's design won't sacrifice its style, but instead lend to its practicality. Try to keep in mind that you are greatly reducing the likelihood of an accident by taking the maximum preventative measures.
So, what are you waiting for? Put these tips into practice right away and make life safer for you and your loved ones!