As we age, everyday tasks that we used to take for granted can become more difficult and even dangerous. Bathing is a prime example of this, as slips and falls in the bathroom can result in serious injuries. That's why seniors need to have a safe and secure bathtub setup that meets their needs.
There are several different options available for seniors looking to make their bathtubs safer. These range from simple modifications to full bathroom remodels, depending on the needs and budget of the individual.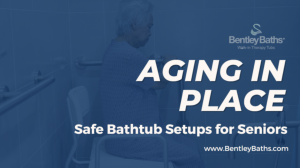 Here are a few things to consider when creating a safe bathtub setup for seniors:
Non-Slip Surfaces:

One of the easiest and most effective ways to make a bathtub safer for seniors is by adding non-slip surfaces. This can include adhesive strips or mats placed on the bottom of the tub as well as textured surfaces on the tub itself. These surfaces provide extra traction, reducing the risk of slips and falls.
Grab Bars:

Installing grab bars in the bathtub area is another important safety measure. These bars provide seniors with something to hold onto when getting into and out of the tub, as well as when standing or sitting in the tub. It's important to make sure that the grab bars are securely attached to the wall and can support the weight of the senior.
Walk-In Tubs: For seniors who have difficulty stepping over the side of a traditional bathtub, a walk-in tub may be a good option. These tubs have a door that opens and closes, allowing seniors to step directly into the tub without having to lift their legs over the side. Walk-in tubs can also include features like built-in seats and hand-held showerheads, making bathing even easier and more comfortable for seniors.
Shower Chairs

: A shower chair can be a nice addition to the bathroom for seniors who would rather shower than take a bath. This seating option lowers the possibility of slips and falls when taking a shower. They can also be useful for elderly people who have trouble standing for extended periods.
Hand-Held Showerheads:

Installing a hand-held showerhead in the bathtub or shower can make bathing much easier for seniors. These showerheads can be moved around, allowing seniors to direct the water where they need it most. They can also be used while sitting on a shower chair, providing even more flexibility and comfort.
Creating a safe bathtub setup for seniors is an important step in ensuring their overall health and well-being. By taking simple steps like adding non-slip surfaces and grab bars or investing in a walk-in tub or shower chair, seniors can continue to enjoy bathing without having to worry about the risk of injury. If you're a senior or a caregiver for a senior, consider making these modifications to your bathroom to ensure a safe and comfortable bathing experience.
Getting older doesn't mean giving up your love for bubble baths! Keep it safe with our bathtub setups for seniors.
The only thing more painful than an injury? Having to explain to everyone how it happened… #awkward
I used to think my body was indestructible…until I pulled a muscle getting out of bed.